Size UK9 Made in West Germany
English is Here
古いプーマの黄色ラインのスパイクはたくさんありますが、その最高峰がこのキングペレです。
ぼろいですが、一応表示は見えます。

ebayの画像で、少しボケておりすいません。
このモデルは(日本では)74年ごろ発売された新型で、初代はこちらになります。
初代はペレ選手も愛用していましたが、74年にサントスを退団し、75年からは北米リーグに移籍され、こちらのメーカーのスパイクを愛用されていましたので、このモデルは当のご本人はそれほどご使用ではなかったと思います。
74年ごろの広告は、


74年はW杯がありましたが、ペレ選手は代表を引退しており出場せず、ネッツァー選手もそれほど活躍されずで、大活躍したクライフ選手の写真が使われていますが、まだクライフ選手のプーマのシグネチャーモデルはありませんでした。
W杯でクライフ選手はたぶんこのキングペレを使っていたと思います。
また、クラブでは黄色ラインも履かれています。

当時のネッツァー選手のスパイクは富越さんが接写されています。

青いモデルが有名ですが、ベースはペレキングかWMっぽいですね。よく使いこまれた黒いモデルもたくさんあります。
またペレ選手引退後のブラジル代表では、


リベリーノ選手が履いていました。
その後クライフ選手のシグネチャーモデルも販売されました。

(オークションの画像です。復刻版もあったと思います)
このモデルがデビューしたころはすでに北米リーグに移籍されていましたが、そちらでもやはりKINGらしきモデルをご愛用でした。

時期的にはソールが強化されたこちらだったと思います。つま先部分は破れています。


ロッカーには新品のスパイクの箱がいくつもありますが、履きなれたKINGがかなりお気に入りだったのかもしれません。
キングペレの紹介のはずが、クライフ選手の話になってしまいました。
今回も富越さんの画像をたくさん載せさせていただきました。
特にレジェンドのスパイクの接写画像は個人的には世界一貴重なアーカイブではないかと思います。
(2019年9月20日)
追記
こちらでもご紹介したバルサ時代のクライフ選手のスパイク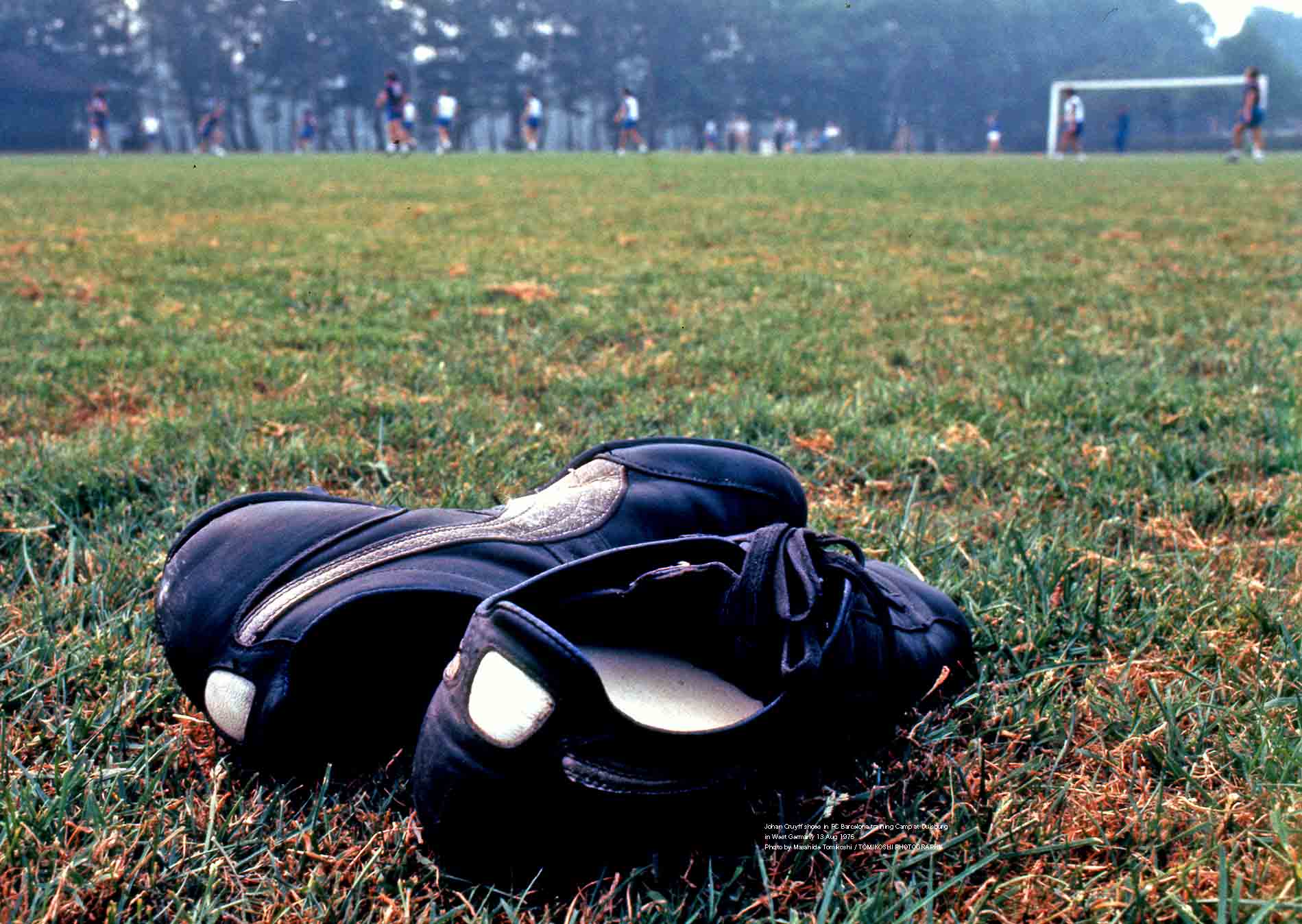 富越さんのすばらしい一枚です。
おそらくこれもキングペレではないかと思うのですが、右足つま先の革がずいぶん延長されています。これについて少し触れたいと思います。
クライフ選手の一生をまとめた本があるのですが、それも「先生」にいただきました。


352ページの大型本で、ものすごく重厚なものです。貴重な写真が満載で、その中のバルサ時代の1枚


このモデルらしきスパイクがきれいに映っています。
左足は


ノーマルのキングペレっぽいですが、
右足は


こちらだけつま先の革を延長した特別モデルをお使いだったようです。
貴重な本までお譲りいただいた先生にあらためて感謝いたします。
ディエゴ様のこのような本もぜひ出版してほしいものです。
(2021年11月26日)
---
There are a lot of old Puma yellow line football boots, but the pinnacle is this King Pele.
It's a bit shabby, but you can see the logo at least.

Sorry for the slightly blurry picture on ebay.
This model is a new model released around 1974 (in Japan) and the first generation is here.
Pele used the first generation model, but he retired from Santos in 1974 and moved to the North American soccer league in 1975, and he used spikes of this company.
I don't think this model was used that much by Pele himself in question.
The advertisement around '74 is.

There was a World Cup in 1974, but Pele did not participate in the World Cup because he retired from the national team and Netzer did not play so much in this tournament.
I believe that Cruyff probably used this King Pele for the World Cup.
In the club, he also wore the yellow line.


Netzer's boots at the time were photographed close up by great photographer Tomikoshi.

The blue model is famous, but the base looks like a Pele King or WM. There are also many well-used black models.
After Pele's retirement, This Brazilian player played wearing with Pele King.

It was worn by Rivelino.
Later on, a signature model of Cruyff was also debuted.

(Here's an image from the auction. I think there was a reprinted version as well)
When this model debuted, he had already moved to the North American Soccer League, and he was still using a model that looked like KING there as well.

At the time, I think it was this one with an enhanced sole.
It was supposed to be an introduction to King Pele, but it turned out to be a story about Cruyff.
This time, I has posted a lot of images of Tomikoshi-san .
I think the close-up photos of the legend's spikes are the most valuable archives in the world in my opinion.